Transcription skills are getting much more vital for crowdsourcing projects, especially when more companies realize the importance of Artificial Intelligence and Machine Learning impacts on their business results and operations. Among those companies, Wow AI is being chosen by many freelancers around the world. Let's find out why you should join Wow AI for transcription jobs as a freelancer.
The number of data labeling jobs is increasing as artificial intelligence and machine learning programs expand. AI has been used by businesses all around the world to help with automation, workforce management, and digital transformation. According to
Grand View Research
, the AI software industry reached $62.3 billion in 2020 and is predicted to rise at a breakneck pace to $997.8 billion by 2028. 
This will open more potential job opportunities for freelancers all over the world who want to step into the field of technology and transcription.
If you're considering applying for jobs in this field to gain experience and earn extra income, applying for crowdsourcing jobs is an ideal choice as the requirement is not as hard as applying for full-time jobs.
What is Wow AI?
Wow AI is a reliable and competent partner or agency that helps businesses enhance their AI/ML systems by providing high-quality data on a huge scale. Wow AI organizes projects for clients, hires employees or freelancers from all over the world, breaks down big projects into little tasks (collection, annotation, translation, transcription, classification, labeling, and so on) and assigns them to the most appropriate workers.
To get compensated, workers/freelancers execute jobs from home, and Wow AI processes and combines all of the data acquired from them into a meaningful and qualified output, which it then sends back to the customer. Leading organizations (such as Google and Microsoft) in technology, automotive, eCommerce, finance, healthcare, and a variety of other industries are among our client.
Who should join the transcription project of Wow AI?
Wow AI offers a lot of jobs and welcomes all people coming from any background, country, and region. Diversity and uniqueness are features to talk about in our projects.  If you have good English skills, wifi connection, and a smartphone, you are free to join our transcription projects. Whether you are looking for a job to earn extra income, have more time for family and friends, gain more experience, no need for traveling around, this type of job is totally suitable for you.
You make a good living and don't have any set working hours or schedules. You'll be able to schedule your hours to fit your schedule and work around the demands of your job and family. You are completely in charge of when and how much you work.
When you fill in the form with your information to apply for the transcription jobs, our team will contact you as soon as possible. Based on the features of the projects, you might take a small test before joining us. After passing, congratulations, you will work with the project management team and receive the tasks from us with assigned deadlines. Once you submit it and the task is approved, you will then receive your payment very soon as a previous mutual agreement between you and Wow AI.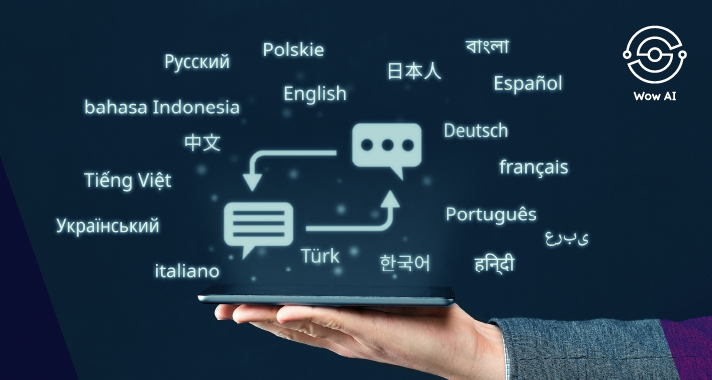 Why should you choose Wow AI to get freelancing data labeling jobs?
There have been a large number of companies offering crowdsourcing jobs around the world. After a period of time, Wow AI has been receiving a lot of good reviews and high satisfaction levels from our freelancers in various projects. Therefore, we are confident to say that we can bring freelancers a large number of benefits.
Wow AI has been quickly expanding
Wow AI has collaborated with a wide range of partners in a number of industries, including healthcare, transportation, banking and finance, e-commerce, and government, all around the world. As a result, there are several chances for freelancers to not only join but also to study in certain industries, particularly for those interested in seeing how Artificial Intelligence and Machine Learning are changing some fields, which are rapidly increasing.
Besides, with the significant rise of projects, freelancers can choose to join the next ones with Wow AI to continue working with us for a long time rather than just a short period of time, and then you have to find other jobs in other companies.
Supportive team for freelancers
When you join Wow AI projects, you will work with a project management team that is helpful and committed to aiding freelancers with everything from answering questions to providing instructions and guidelines, assessing quality, and providing assistance in case of emergency. 
This is one of the most notable features that distinguish Wow AI from our freelancers.
Freelancers receive a fast payment process
When you submit assignments to Wow AI as a freelancer and they are authorized by the project management team, the payment procedure will begin immediately based on the existing agreements between the parties. This is critical if you require payment and are working on many projects at the same time in order to decrease the time spent tracking and pushing.
Join Wow AI's crowdpool now with attractive transcription projects
We hope that you have known more about Wow AI. If you are interested, please join
crowdpool
and our team will connect with you right away when there are suitable transcription projects for you. The time will be very soon so stay with us and do not hesitate to apply now.
Also, if you are looking for a job in other fields from global companies, do not hesitate to apply your CV at Waw Asia - a member company, along with Wow AI, of
Waw Asia
Corporation. The company has a wide range of
remote jobs in MKT, HR, IT, Translation
for people coming from any country so no matter where and who you are, you are welcome at Waw Asia and Wow AI.