Because of the advancement of technology, there has been a surge of interest in artificial intelligence as a technology as well as the job market! The number of employees in artificial intelligence is increasing as more and more companies go digital. In this article, let's find out 5 popular Artificial Intelligence jobs to start in 2022.
While this may not be optimal for the profession as a whole, it is certainly wonderful news for individuals wishing to further their careers in a more profitable and enriching way! The roles are expected to remain empty for several years - thus it's never too late to start your path in Artificial Intelligence.
What kind of jobs in Artificial Intelligence is becoming popular today for newbies? Let's take a look!
3 popular trends for Artificial Intelligence (AI)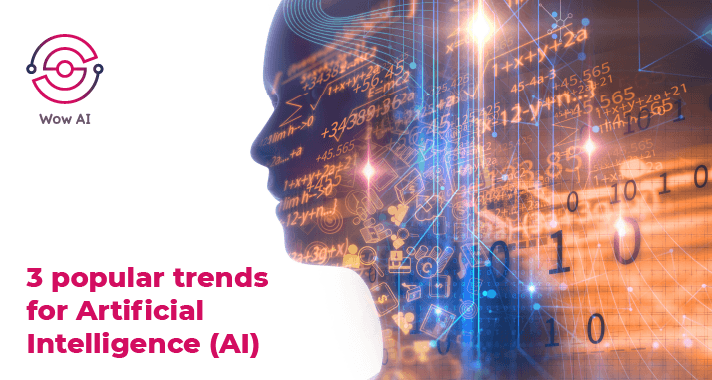 1. Artificial Intelligence shifts all positions 
AI is reshaping all positions in a wide range of companies or at least a large number of them.
Artificial Intelligence is expected to boost productivity, efficiency, and economic growth across practically all economic sectors. Aside from chess-playing computers and self-driving vehicles, machine and deep learning skills allow computers to process massive volumes of data in order to accomplish specific goals and tasks. 
The potential for AI and automation to contribute to quicker and more accurate programming and production offers the promise of far-reaching implications for the nature of work itself.
2. Cybersecurity
AI appears to be continually being entangled in the area of cybersecurity, for both business and personal reasons; a never-ending trend. AI and machine learning technologies may be used in cybersecurity to assist in the identification of risks, including variations of previously identified threats. 
AI will be used to build smart houses in which the system learns the ways, habits, and preferences of its people, boosting its capacity to detect intruders and safeguard the property.
3. The rise of systems for cleaning and structuring data
Currently, many companies still have their data scientists work on the datasets manually. 2022 will see the rise of systems that will standardize and dramatically accelerate these processes. 
Many companies like Wow AI, which specializes in providing high-quality data solutions for AI training at a large scale are actively hiring jobs for those, even without formal education in the field.
Top 5 Artificial Intelligence jobs in 2022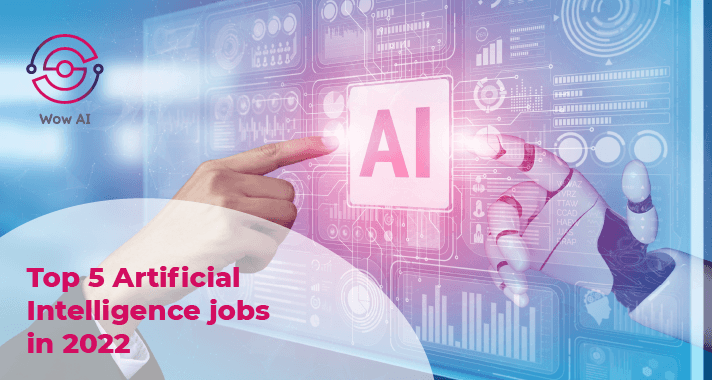 If you are interested in starting in Artificial Intelligence jobs but still have little experience and education, don't worry. Nowadays, there are many job opportunities in the field requiring little experience and background, especially when it comes to data. 
1. Data Entry Clerk
The primary job duties for the Data Entry position are to enter and verify data. This job title doesn't require any formal education, but fast and accurate typing skills. There is a lot of remote work in this field because jobs are available in almost every sector.
2. Transcriptionist
A transcriptionist's responsibility is to convert audio files into written documents. Remote transcription jobs exist in various industries, government agencies, and nonprofits. You will stand out when applying for these jobs if you are fluent in more than 1 language and have excellent hearing, fast typing, and spotless grammar.
3. Data Collector
As a data collector, you enter information into a database and ensure that your data collection sources are accurate. There are some companies opening data collector positions like Wow AI for numerous projects.
4. Data Annotator
Data annotators help categorize the content. They can work with things like videos, advertisements, photographs, and other types of material. They assess the content and then attach tags to the content. This helps group information or materials together by relevance. You can enhance your career prospects by improving strong computer skills and organizational skills
5. Data Visualization Specialist
The primary responsibility of this title is to find trends and patterns in data and provide reports. Job seekers should familiarize themselves with standard software tools and design strategies. You can upskill your data representation by taking online courses.
How to get a job in Artificial Intelligence?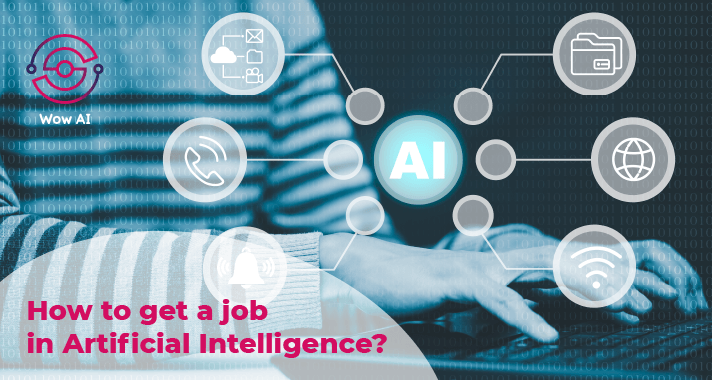 1. Check out online courses
AI is a very unique field for fresh graduates and junior positions. The dilemma for some people is they do not have experience, background, or any solid information about the field, making it difficult to get a job in AI. Meanwhile, from the employer or company viewpoint, it is hard to find experienced staff in AI. 
The best advice is to join an official course with specialized training from established academies, universities, and organizations focusing on AI. With such a course, you will gain a full understanding of theoretical principles as well as how to apply them to real-world challenges. 
2. Read–a lot
Those working in AI should always be learning, and reading is a way to do that. You can subscribe to some scientific publications and blog posts from well-known sites.
3. Add standard business knowledge
Many of the in-demand AI jobs are technical by nature, but knowing how to translate those developments to other businesses or consumers is important for any organization. There is also a growing demand for a unique skill set that integrates knowledge with AI approaches as well as extensive business and subject understanding.
Interested In Taking Up AI Jobs? Check Out Wow AI's New Projects
You can apply for a large number of jobs at Wow AI based on your abilities and interests to earn more income, create great relationships, and expand your knowledge in artificial intelligence.
Focusing on high-quality AI training data for a better AI algorithm, we aim to become an all-in-one platform for all AI data services with tech-driven mindsets. We are currently offering crowdsourcing jobs on a global scale. Have a look at our crowd pool to find the best crowdsourcing jobs in the top growing industries now.
Wow AI wants to make the process of finding crowdsourcing jobs simple for you. We handpicked different types of crowdsourcing projects with questions that anyone can answer. 
Check out Wow AI's crowd pool. You can find interesting projects that suit your profile.