What exactly is crowdsourcing?
Examples of crowdsourcing jobs
Companies might open crowdsourcing jobs that need to be done on special occasions. The jobs can be designing, coding, writing which can be finished in a short time.
Many individuals believe that crowdsourcing is only for minor tasks. However, some businesses have used crowdsourcing to do important tasks like establishing brand guidelines by collecting many people for a small fee. They will then choose the best candidates and pay them in full.
Uber & Grab are also recent outstanding companies offering crowdsourcing jobs for people from anywhere to become their drivers and connect them with those who need drives.
3 benefits of crowdsourcing jobs 
Filipino workers can gain greatly from crowdsourcing jobs. Here are three benefits of crowdsourcing employment that you would benefit from.
Therefore, crowdsourcing jobs have become an ideal choice to earn more money in the future. For those who are working full-time, choosing crowdsourcing jobs might be a good way to earn income without interfering with your main jobs.
Update skills in emerging fields (AI, ML,..)
Many artificial intelligence and machine learning organizations are increasingly looking for crowdsourcing workers in Asia, especially the Philippines. Taking crowdsourcing work at these organizations is a terrific way to master data procedures for AI training without a genuine degree or university experience since this is a new and rapidly increasing sector in the globe.
Join the global talent network
Even if the organization no longer requires your services once you've completed your allocated job, you can maintain in touch with your contact regarding future possibilities if you create excellent work. 
Crowdsourcing jobs in the Philippines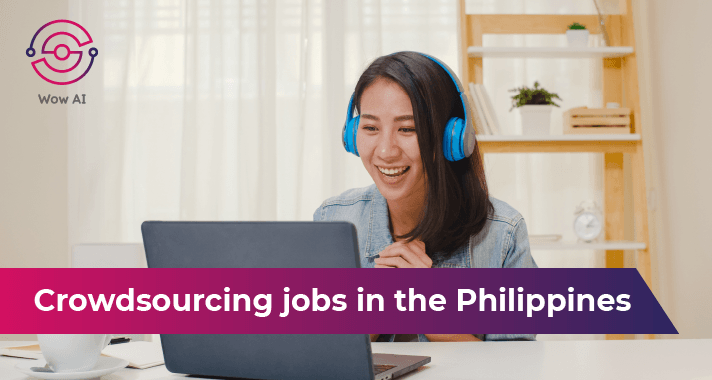 This list of ten crowdsourcing jobs in the Philippines will help you find attractive crowdsourcing jobs for Filipino talents:
1, Data entry clerk
Main role: Data entry's major responsibility is to enter data into a computer system and maintain it structured for others to utilize. The data entry clerk is also in charge of retrieving information that management requests.
2, Transcriptionist
Main role: The main role of a transcriptionist is to translate the audio, video into written documentation. They need to have good listening skills, fast typing spaces, and a good sense of languages and social contexts. With noticeable projects in audio recording & transcription, offering 14000 audio hours of 14 languages (transcription), Wow AI can be a potential choice for your crowdsourcing job as a transcriptionist. 
3, Software developer
Main role: A software developer's job includes identifying, creating, implementing, and testing a software system that they have created from the bottom up for a corporation. It might range from developing internal programs that assist firms to become more productive to developing solutions that can be marketed commercially.
4, Content Creator
Main role: A Content creator is responsible for creating content (words, texts, videos, images..) across different platforms such as social media channels, websites, newspapers, emails, radio, or television. As graphic designers, there are several rules from the company that they need to follow. A content creator is also sometimes in charge of producing analytics and content audits.
5, Labeller
Main role: Operating and tending to machinery, preparing items for transportation and storage, handling and transferring materials to guarantee a seamless workflow, and checking equipment to assure safe operation are all responsibilities of a labeler.
6, Voice over Artists
Main role: A voice-over artist's primary responsibility is to read a pre-written screenplay aloud in order to create a voice recording that will be used to accompany a video production. The process of bringing the screenplay to life in the voice-over artist's narration requires the development of a strong and clear speaking voice.
7, Proofreader
Main role: A proofreader is responsible for reading and editing are written documents such as articles, social posts, journals, books,... They also need to follow the company's guidelines. A proofreader also needs excellent skills in words, grammar, and vocabulary in the English language.
8, Translator
Main role: As a translator, you are in charge of translating written items into different languages. This role requires excellent skills in both originals and the languages they are translating into. Some materials to translate can be books, newspapers, contracts, or reports.
9, Quality assurance tester
Main role: A quality assurance tester is in charge of doing tests on the software that a company uses to ensure that it is working properly. They are required to keep track of their work, write reports outlining their findings, and work closely with developers to resolve any problems happening.
10, Copywriter
Main role: A copywriter's main role would be to create text to sell, attract and inform the audience about products, services, or activities of the organization. They work on emails, brochures, posters, or any communication materials required. A copywriter often works with graphic designers for finished communication materials. In this case, writing skills are highly required.
,
Conclusion