Many global BPO companies are offering crowdsourcing jobs for those living in Africa. However, finding a legit and easy one is not easy, when there are so many jobs posted every day. In this article, let's find out how to find legit crowdsourcing jobs in Africa.
COVID-19, along with the growth of technology, particularly artificial intelligence, and machine learning, has permanently transformed the way we work. When looking for side jobs in Africa to earn money, skills and experiences, a crowdsourcing job is a potential choice. 
Moreover, whether you work in marketing & communications, IT, translations, or any job function, there are many opportunities for crowdsourcing employment in Africa.
Crowdsourcing job - What is it?
Crowdsourcing jobs entail a huge number of people working for an organization or a project. People would submit their ideas and microtasks such as gathering photographs, audio, videos, and scripts via online platforms, the Internet, or mobile applications.
Crowdsourcing roles are mainly filled by paid freelancers, contract employees, and even volunteers. Some people see crowdsourcing efforts as a supplement to their full-time work, allowing them to supplement their income in their leisure time. Given
the rise of freelancers and part-time workers in Africa
, this would be a total possibility.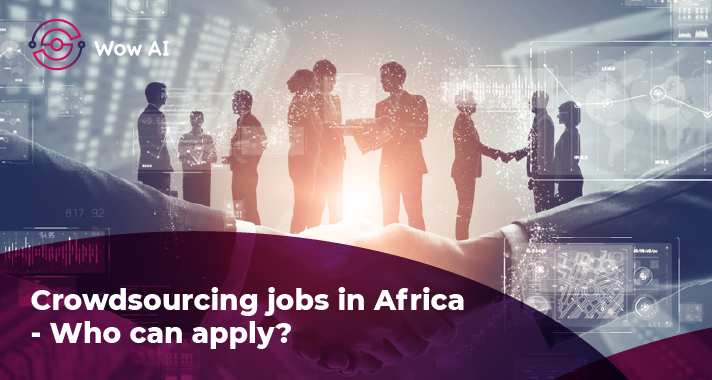 Crowdsourcing jobs in Africa - Who can apply?
Crowdsourcing is used by businesses to obtain a wide range of ideas and resources. So you should be aware that there are no major constraints.
Certain crowdsourcing firms in the world require proficient employees in their specializations based on different projects, clients, and contexts. Some prefer web developers, while others prefer digital marketers. However, you are all welcome regardless of your background, whether it is marketing, information technology, design, content development, HR, finance, and so on. Many companies now open crowdsourcing jobs based on people's skills, location instead of an official degree or experience.
Young people in Africa are choosing crowdsourcing jobs as a way to earn extra income during their free time. Crowdsourcing positions will be available at many levels, from young graduates to senior executives, depending on the workload and the project's condition.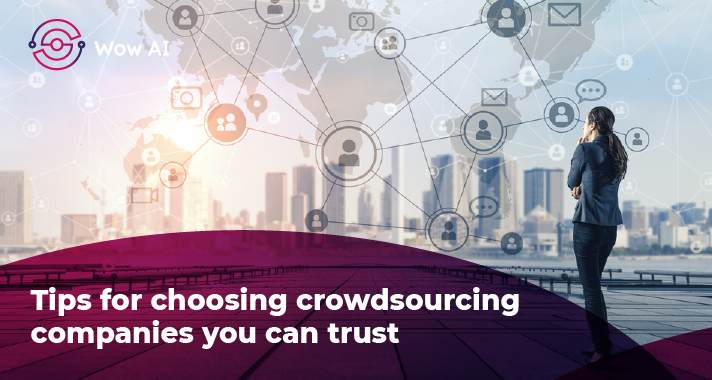 Tips for choosing crowdsourcing companies you can trust
As the globe continues to connect online - 4.66 billion of the world's residents are already connected—an increasing number of individuals will resort to crowdsourcing to get things done. However, if people can't trust the humanware behind the software, they haven't discovered a reliable or effective solution to their problem.
If you are looking for crowdsourcing freelance jobs from Africa, you need to recognize that your confidential information could be exposed. Therefore, it is critical that you look into key factors for a trusted and professional company offering crowdsourcing jobs. These are two important elements you can consider:
1.The requirements of the company when offering crowdsourcing jobs
Many companies and platforms, when offering crowdsourcing jobs, allow everyone to join, which might lead to poor working processes and leaking important information. Therefore, make sure the company you apply to has clear standards and clear information about their requirements.
For example, at
Wow AI
, we have a
crowd pool
with clear requirements of who can join for each project. You can leave your information in our form and we will assist you to find the most suitable crowdsourcing job based on our available projects. 
2.The legitimation of the company
Some businesses may steal your information in the guise of "data collecting".  Therefore, try to search for the company's history, testimonies, and projects from any sources, sites, and people you know. 
Interested To Take Up Crowdsourcing Freelance Jobs in Africa? Check Out Wow AI's New Projects
By now, we hope you got an idea of how to find legit crowdsourcing freelance jobs from Africa. Like we said, anyone in Africa can join a crowdsourcing project.
Wow AI
wants to make the process of finding crowdsourcing jobs simple for you. Clear guidelines. Experienced project managers are always ready to support freelancers. Nothing fancy.
Let's join our Wow AI's crowd pool. You can find interesting projects that suit your profile.