Artificial Intelligence (AI) has gained a lot of attention as a result of the COVID-19 epidemic, and it is now the second most sought-after talent in freelancing. However, no two Artificial Intelligence projects are the same, since each company requires unique solutions. In this article, let's find out with Wow AI how to find highly-paid freelance jobs in Artificial Intelligence.
Between 2015 and 2017, the number of skills required for AI-based occupations increased by 190% on LinkedIn. AI-skilling will continue to be unquestionably important in order to run, employ, and progress disruptive technologies.
If you are new to the industry, willing to take the first steps but not sure what Artificial Intelligence job you can do next, this article is for you.
What is Artificial Intelligence?
Artificial Intelligence (AI) refers to the ability of machines to think. AI is shown by any gadget that detects its surroundings and takes activities to improve its chances of success. 
AI is used when a computer duplicates cognitive processes that are generally associated with human behaviors, such as learning and problem-solving.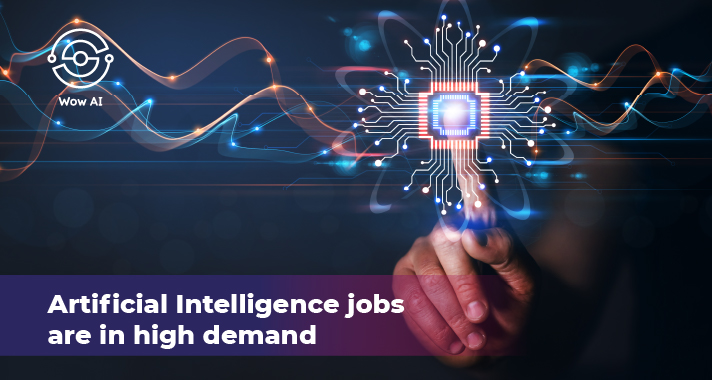 Artificial Intelligence jobs are in high demand
According to
Grand View Research
, the Artificial Intelligence software industry reached $62.3 billion in 2020 and is predicted to rise at a breakneck pace to $997.8 billion by 2028. 
With over
2 million job opportunities
, AI is in great demand. Wow AI can give you an example of how we use Google Assistants, Amazon, and Siri in our daily lives to make our tasks simpler in order to study Artificial Intelligence, right? As a consequence, you may be able to contribute to the development of the system.
So many facets of AI, including translators, facial recognition software, and self-driving cars, are now available because of one type of raw material: data. This can be considered to be the golden time for this when there are more companies from healthcare, transportation, education, technology, marketing are in great demand for outsourcing jobs in
data annotation
,
data collection
, and
data transcription
. This has created increasing opportunities for those who are new to the field of Artificial Intelligence.
How to find freelance jobs in Artificial Intelligence?
Kaggle is the world's largest data science community, offering strong tools and resources to assist you in achieving your data science objectives. This is not only a monetary resource for most data science aficionados, but it is also a vital learning tool that helps increase experience, gain information, elevate and develop abilities, and learn from mistakes by submitting code. It is the ideal foundation for regular practice.
2. Maintain a good digital profile
Many businesses actively recruit employees through internet means. Try to check your profile on a regular basis and update facts about your job experience and projects, as well as follow prominent individuals in the sector and engage with some excellent relevant articles so that they appear in your activity. 
All of this contributes to your reputation as someone who is on top of trends, is well-informed, and understands where the world of AI is heading.
3. Start with freelance marketplaces
Artificial Intelligence is an attractive field for fresh graduates and anyone who wants a freelance job. However, if you are desperate to start working, you may always find some companies that are offering Artificial Intelligence freelance jobs. It is important to choose your employment wisely and avoid falling into the downward cycle of bidding.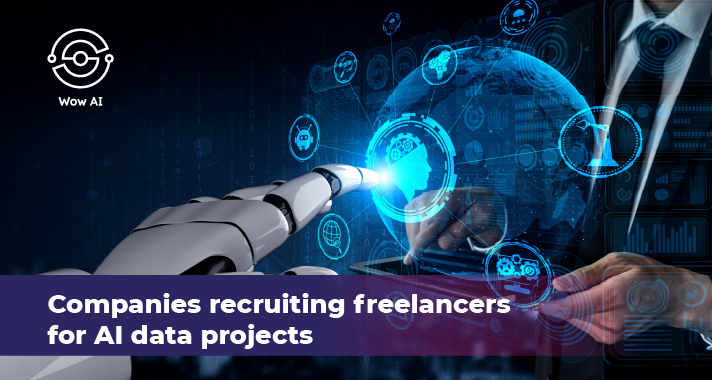 Companies recruiting freelancers for AI data projects
Wow AI
Focusing on high-quality AI training data for a better AI algorithm, Wow AI aims to become an all-in-one platform for all AI data services with tech-driven mindsets. The company works with a wide range of clients from numerous fields: healthcare, transportation, technology, education, e-commerce...
Wow AI is currently offering
crowdsourcing jobs
on a global scale. Have a look at our
crowd pool
to find the best crowdsourcing jobs in the top growing industries now.
TELUS International 
TELUS International is a Canadian technology company that provides IT services and multilingual customer service to global clients. 
Scale AI
Scale AI is the data platform for AI, providing high quality training data for machine learning teams.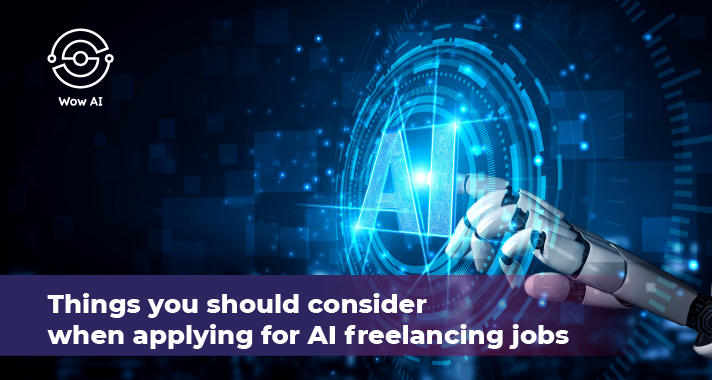 Things you should consider when applying for AI freelancing jobs
Increasing jobs in the field create both opportunities and challenges for companies and projects. 
1. Clear information
Data projects could be found in many industries with different types of tasks required. Working remotely restricts freelancers from learning about the projects or companies in person. 
Therefore, freelancers should try to get to know the company thoroughly by finding everything they could online from websites, social media, or review sites such as Google reviews, Clutch, etc.  
2. Trusted organizations
Recruiter is an important touchpoint between the company and candidates. Whether applying for jobs through the project management team or agents, freelancers should be clear about who they are talking to and how to contact them when they need support. Also, freelancers should be careful when providing personal information.
3. Transparent communication
Communication here includes both verbal and written discussions between the company and freelancers. All should be clear and consensual between both parties. In addition, important information related to salary, deliverables, or data privacy should be recorded in written form. 
Interested in taking AI jobs as a freelancer? Join Wow AI talents pool! 
You can apply for a large number of
freelance jobs in AI data projects
at Wow AI based on your abilities and interests to earn more income, create great relationships, and expand your knowledge in artificial intelligence.
Wow AI wants to make the process of finding crowdsourcing jobs simple for you. We have different types of crowdsourcing projects with clear and easy requirements that anyone can join. Nothing fancy. 
Wow AI is also a member company of Waw Asia Corporation -  which connects job seekers with remote-working culture companies around the world. Besides offering crowdsourcing jobs in AI, the corporation also offers a wide range of remote jobs for freelancers in various fields such as IT, Marketing, Sales, HR, Finance, Accounting, Project Management, Online Teaching, etc.
Join in
Wow AI's crowd pool
. You can find interesting projects that suit your profile and earn extra income!