Apart from your regular 9 to 5 and the modern day remote work, crowdsourcing is also in the mix. Young, educated individuals are looking for crowdsourcing jobs in India to earn cash through micro tasks. You are here and that means one thing: you want to know how to get a crowdsourcing job in India. We got your back.
Before jumping right in, let's walk you through on what's happening now in the world of crowdsourcing.
Differences between Crowdsourcing and Outsourcing
It's also important to distinguish between crowdsourcing and outsourcing. Outsourcing is when a corporation hires a third-party agency (with its own staff) to deliver tasks. Crowdsourcing, on the other hand, uses a group of people (each having a separate, unique relationship with the organization) to do the task.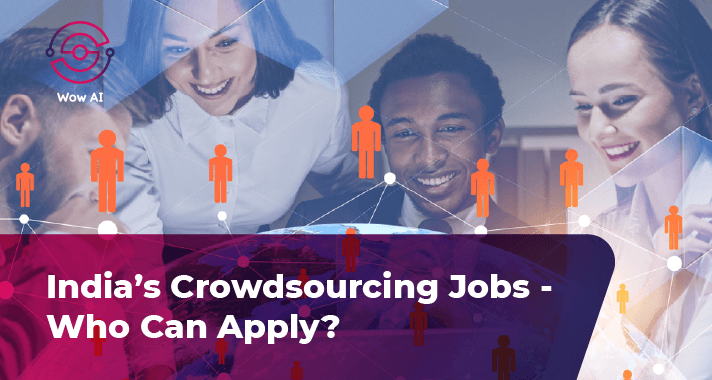 India's Crowdsourcing Jobs - Who Can Apply?
Companies go for crowdsourcing to get a variety of ideas and resources. So you need to know that there's no big restrictions.
With certain crowdsourcing companies in India, they prefer technically sound individuals in their niche that way the inputs are relevant. Some want web developers while others want architects. However, you are all welcome no matter what backgrounds you are working on, from marketing, information technology, design or content creation and so on. 
Most of the time, the job is executing tiny tasks, although a company can hire workers who are particularly competent for any service. Depending on the scope of work and company's situations, the crowdsourcing jobs will be open for different levels, from fresh graduates to senior ones.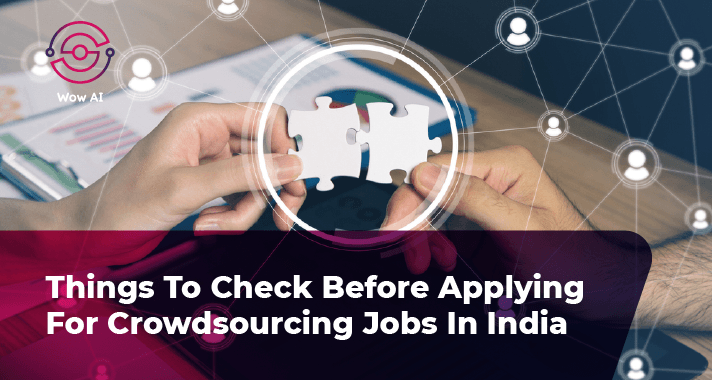 Things To Check Before Applying For Crowdsourcing Jobs In India
Basic requirements and regulations must be checked before applying for crowdsourcing jobs in India include: the benefits you gain from the crowdsourcing jobs, the company policy, working process, deadlines, scope of work, whom you will work with and which devices needed for the working process. 
This will help your working process to be clear while you can keep track of tasks and deadlines easily without confusion. Some companies from other countries have different time zones, payment methods, of which is also something you should take notice of.
Besides, you also need to check for several things:
1. Is the company legit?
Duh! Some companies might steal your data in the name of "data collection". Look into the company's background, testimonials, projects and ensure that the coast is clear.
2. Does the firm do background checks on its employees?
Many crowdsourcing platforms make it possible for anybody to join the community. This can result in not just bad service but also the risk of important information being leaked to the market. Try to make sure the company you're going to apply for crowdsourcing jobs has clear entrance requirements—testing, background checks, interviews, and so on—and that its process is widely displayed.
3. How much do you have control over transparency?
Most companies, when offering crowdsourcing jobs, will demonstrate their end product and what their customers have to say about it. However, it is also important to check the  step-by-step process and exactly who is working on it. This helps you to know your role, how you can contribute and have the deep understanding of the process. Make sure you understand how much control you have over each phase of the process before choosing a crowdsourcing job.
Top crowdsourcing jobs for Indian people
Some businesses utilize crowdsourcing to do certain projects or tasks in order to minimize the cost and time involved in hiring an in-house employee. There are many outstanding crowdsourcing jobs you can apply in right from India such as: unique copywriting services, data classification and reconciliation, search relevance, product matching, and content moderation. 
Some jobs will require people who have experience in the field or an actual degree while others might not and just need people in specific locations with specialised skills.
Besides, some emerging industries such as artificial intelligence and information technology now have recruited people coming from different backgrounds for their crowdsourcing jobs. This opens a chance for those who do not have actual backgrounds but may want to upgrade and get experiences in these developing fields. Some companies like
Wow AI
are actively offering
crowdsourcing jobs
for talents in India.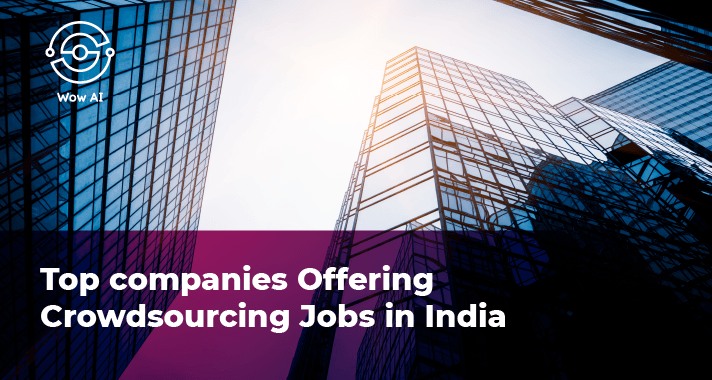 Top companies offering crowdsourcing jobs in India
Here are a few of the top 5 crowdsourcing companies in India:
This is an AI-powered crowdsourcing platform that helps firms grow successfully by delivering a plug-and-play on-demand field technical workforce.
This website helps servicing technicians by giving them a place to book and manage their orders. In addition, freelancers have their own webpage.
Wow AI focuses on delivering the highest quality of AI training data for a better AI algorithm. The company offers diversified projects in India in the field of technology, artificial intelligence and machine learning with a
crowd pool
open for different levels from junior to senior ones.
GigIndia is a marketplace that provides on-demand work completion for companies through a gig workforce of jobseekers.
Designhill.com is an online crowdsourcing platform that helps businesses or entrepreneurs find graphic design artists for hire.
PublicVibe is India's own hyperlocal video app that brings you the latest news and videos from locality, which are made from local people and anyone around the world.
Interested To Take Up Crowdsourcing Jobs in India? Check Out Wow AI's New Projects
By now, we hope you got an idea of how to find easy crowdsourcing jobs in India. Like we said, anyone in India can join a crowdsourcing project.
Wow AI wants to make the process of finding crowdsourcing jobs simple for you. We handpicked different types of crowdsourcing projects with questions that anyone can answer. Nothing fancy.