This article is going to give all the information about how Thai people benefit from crowdsourcing jobs.
Before jumping right in, let's walk you through all the necessary information about crowdsourcing jobs.
What is a crowdsourcing job?
Crowdsourcing jobs are widely available for most people around the world, with no experience requirement, from entry to senior level can join crowdsourcing projects as freelancers or long-term employees. Freelancers would submit their ideas and micro-tasks such as
collecting images, audio, scripts through online platforms
, the Internet, or mobile applications. 
One important point of a crowdsourcing job is that it might be offered for international workers without national barriers. Some outstanding companies in the field of tech are actively offering crowdsourcing jobs in a wide range of fields in any country, from entry to senior levels. 
Crowdsourcing has grown in importance as a tool for many companies to use in a range of areas, such as data collecting, data annotating, or data transcription. It has enabled numerous businesses to expand at an extraordinary rate, to the point that the approach has transformed whole industries.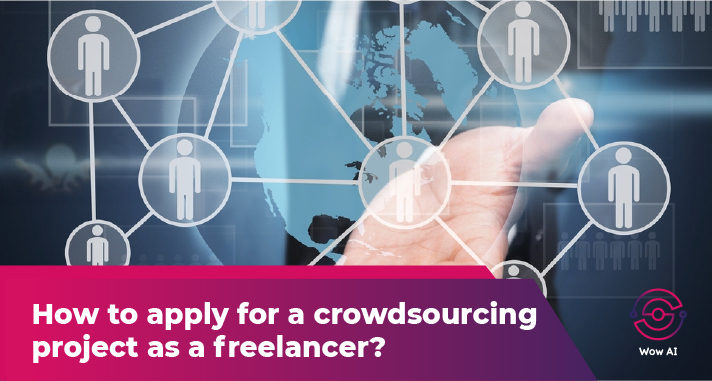 How to apply for a crowdsourcing project as a freelancer?
If you want to apply for a crowdsourcing project, you can find BPO (Business Process Outsourcing)  companies to apply to. To crowdsource, a company will first divide a major project into smaller micro-tasks. They will then decide to recruit the number of freelancers and other requirements based on the projects' features. 
Anyone with good English skills can join crowdsourcing projects, from any field, in any country. You will have to take the tests and fill in detailed information to be selected for different projects. If you pass the test, you then work with project managers/ project manager assistants and other freelancers during the working process. Companies like
Wow A
I that have regular projects, would have a
crowdpool
site for people to fill in their information. Once they have suitable projects, they contact soon.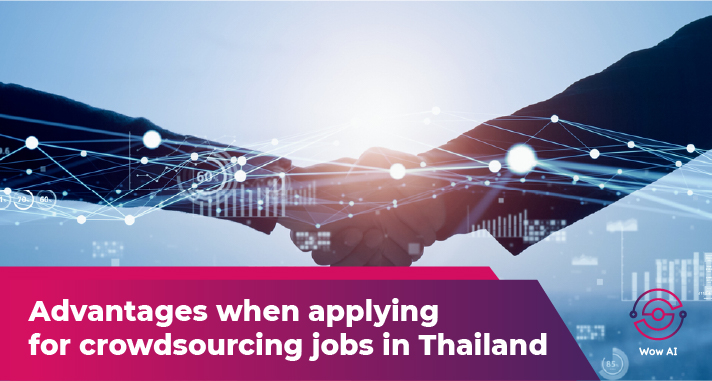 Advantages when applying for crowdsourcing jobs in Thailand
Earn extra income
There are a lot of part-time crowdsourcing jobs that have been open for Thai people. You can apply to work drawing your free time without affecting your full-time work. Crowdsourcing jobs may be an excellent approach to generate money without interfering with your main job for individuals who work full-time.
Gain new skills/ experiences
Many BPO (Business Process Outsourcing) companies are hiring crowdsourced labor in Asia, particularly Thailand with the rise of freelancers and remote workers for their data projects. Taking crowdsourcing employment at these businesses is a fantastic approach to learn data techniques for AI training without a real degree or university background, as this is a new and fast-growing industry throughout the world.
If you're seeking crowdsourcing employment in technology (Artificial Intelligence, Machine Learning),
Wow AI
is a viable alternative with a variety of crowdsourcing opportunities available for people living in Thailand. 
Expand your networks
COVID-19 has limited our traveling choices, preventing us from meeting new people in other countries. But you now can ace it when joining global projects. This is a great chance for you not only to expand your network but also to learn from the international workers at different levels right from your home country. 
Interested To Take Up Crowdsourcing Jobs in Thailand? Check Out Wow AI's New Projects
By now, we hope you got an idea of crowdsourcing freelance jobs in Thailand and the advantages they bring for you.
Wow AI wants to make the process of finding crowdsourcing jobs simple for you. We are currently offering crowdsourcing jobs for people living in Thailand. When joining Wow AI projects, you will then be supported directly by experienced project managers from our company, while gaining a high salary average shortly after you finish the tasks.
Join in our talent pool to find the best crowdsourcing jobs in the top growing industries now.