Businesses in the UK have been actively offering crowdsourcing jobs to save time, money and connect with global talents. Here's all you need to know about finding crowdsourcing jobs in the UK, one of the most developed global working environments in the world. 
Moreover, whether you work in technology, marketing, or human resources there are many companies in the UK offering crowdsourcing jobs for you with a variety of jobs from entry to experienced level. 
What are crowdsourcing jobs?
The technique of soliciting work, information, or opinions from a large number of people via the Internet, social media, or smartphone applications is known as crowdsourcing. In certain circumstances, crowdsourcing employees are paid freelancers, while others do little projects for free.
It might be difficult to see all of the pros and cons of adopting crowdsourcing to replace conventional R&D if you are unfamiliar with the concept. Everyone's goals are different, so consider how crowdsourcing employment might help you in the short and long run.
We've all depended on a quick Wikipedia search to discover answers to our most pressing questions, for example. The website has been nicknamed the "father of online crowdsourcing" since it allows everyone to interact.
As permanent employment become a thing of the past, more people will flock to crowdsourcing platforms to pursue numerous professional skills and interests. Most firms will utilize crowdsourcing to both develop solutions and recruit the proper personnel in the coming years.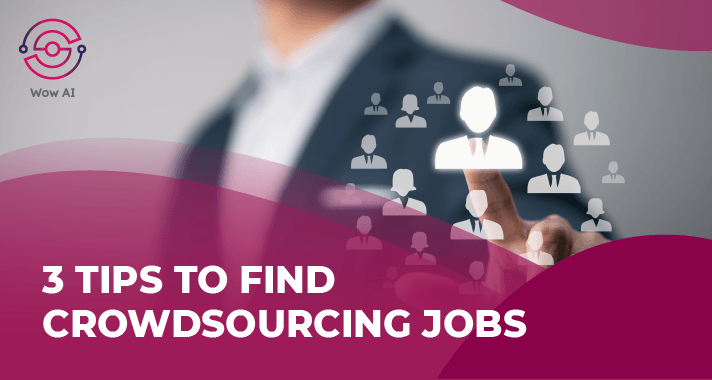 3 tips to find crowdsourcing jobs
Read all the requirements carefully
Because there are hundreds of crowdsourcing jobs available every day, it's a good idea to search through all of the available tasks on the site based on your preferences, such as the date posted, the amount paid, the requirements, and so on. After that, choose a task and go over the criteria to make sure it's something you'd like to undertake. This is to guarantee that you get full credit and that you comprehend all of the requirements.
Find reliable sources
Some job sites such as
Amazon Mechanical Turk
,
Waw Asia
, and
Fiver
offer crowdsourcing jobs for people both in the UK and other countries with a wide range of fields. If you want to work in artificial intelligence and machine learning,
Wow AI 
is a potential choice with numerous jobs in the crowdpool for those from tech and other industries to get closer to top emerging fields in the world. 
Deadline
Because you have complete control over your time and duties when crowdsourcing, it is critical to have a well-planned schedule in order to fulfill the deadlines set by the crowdsourcing firms. It's all about you, your personal branding, and your image when you work alone. As a result, it's critical to maintain professional standards and a productive working procedure.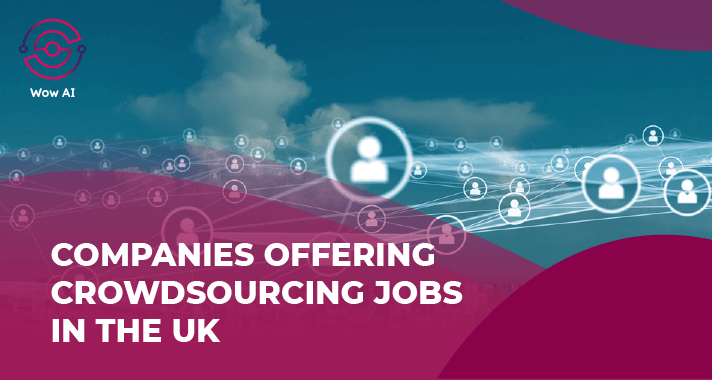 Companies offering crowdsourcing jobs in the UK
Focusing on high-quality AI training data for a better AI algorithm, Wow AI aims to become an all-in-one platform for all AI data services with tech-driven mindsets. The company is currently offering crowdsourcing jobs in the UK. Have a look at our
crowd pool
to find the best crowdsourcing jobs in the top growing industries now.
Users may use Rise Art to find and access original art from galleries and institutions. This has come from thousands of pictures, videos from many talented artists around the world contributing to the company's art sources.
Pinga is the first app in the UK that allows anybody to seek help with a "small life emergency" from someone nearby.
The Crowd is a corporate community platform for sharing ideas and developments.
The company offers summaries of web pages written by people. If you're an engineer (mobile, backend, frontend), designer, marketer, or writer, you can drop be a part of them.
In conclusion
Above are all the complete guidelines to find crowdsourcing jobs in the UK. In the future, many industries will continue to grow and join the crowdsourcing markets in the UK with the rise in the number of startups, especially in the field of technology. You can consider joining companies related to artificial intelligence and machine learning to be trained in one of the most emerging industries in the world.