Crowdsourcing jobs have become popular in Europe with the rise of crowdsourcing platforms, enabling remote freelance workers to gain more job opportunities and higher pay.  Here, then, are some simple tips to find legit crowdsourcing jobs in Europe.
Crowdsourcing in Europe is increasingly being used to guide strategy, innovation, and marketing initiatives, especially with emerging fields such as artificial intelligence or machine learning. Starting first crowdsourcing jobs might be challenging as you have seen a lot of sites and posts about them, but are concerned about security and trust.
No matter what you are turning to crowdsourcing for — or how you go about it — the tips below will support you on the way to your crowdsourcing job search in Europe.
Crowdsourcing - What is it?
The outsourcing of labor to a vast, sometimes indefinite community of people is known as crowdsourcing. It may also be viewed as a technique of obtaining commodities, labor, information, or ideas from a huge number of people.
Crowdsourcing is a technique used by certain firms to achieve particular goals or produce new ideas. Unlike traditional outsourcing, when firms select a single contractor or freelancer for a task, crowdsourced work is distributed across a vast, often indeterminate group of people. 
To properly crowdsource a project, a company must first divide it down into smaller micro-tasks. Workers will then work together to handle the micro-tasks one by one, thereby speeding up the process.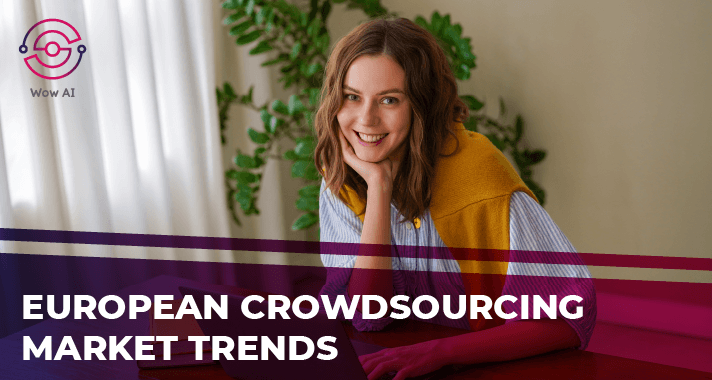 European crowdsourcing market trends
Crowdsolving is becoming more popular in both the private and governmental sectors. Due to the growing number of crowdfunding projects and crowdsourcing methods employed by entrepreneurs and organizations, the worldwide crowdsourcing market is estimated to reach
US$154,835.74
in revenue by 2027, with North America and Europe hosting more than 90 percent of crowdsourcing clients.
This creates various potential opportunities for crowdsourcing jobs in the region, ranging from entry-level to experienced ones. Europe is considered to be a large market in crowdsourcing, and in order to find good chances in this large pool, effective strategies are highly recommended.
Crowdsourcing, on the other hand, is rapidly becoming a mainstream innovation avenue for corporations. Several corporations and governments use crowdsourcing to tackle key issues including product development feedback, distribution, and knowledge questions. In Europe, market penetration is increasing, which is expected to give profitable potential possibilities for the industry.
The following are the European crowdsourcing market trends:
Artificial Intelligence and Machine Learning 
Researchers are experimenting with a variety of methods to merge AI with crowds to make more effective decisions, improve forecasts, and produce data labeling for machine learning. Crowdsourcing AI talent uses cases such as
data collection
,
data annotation
,
data transcription
, algorithm design, or product testing.
Combining AI with the insights of annotators and the information supplied and encoded by huge numbers of humans can help firms and organizations to collect massive labeled datasets at cheaper costs, making R&D processes more efficient and cost-effective. 
Besides, most companies rely largely on human moderators, and while analytics tools may be used to evaluate quantitative participation patterns, they cannot be used to analyze the material created by humans.
Demand for crowdsourcing applications
Many businesses are using crowd-sourcing because it offers various advantages, including cost savings, agility, and the ability to interact with individuals who have a variety of skills. Furthermore, crowd-sourcing may be used to improve a variety of jobs, such as site design and transcribing. In addition, many industries are increasingly turning to crowdsource platforms for public feedback and the development of new goods such as healthcare, education, transportation, marketing and communication, beauty, and design.
Expert tips to find legit crowdsourcing jobs in Europe
Know the market requirements
Crowdsourcing markets in different regions and countries might not share the same things, which means it is important to do market research before joining the
crowdsourcing pools
. This can be done by being involved in crowdsourcing sites and groups through online platforms and crowdsourcing events, which gather lots of experienced people in the field and provide insightful information. These people will not only give you advice but also support your portfolio, personal connections, helping you to get closer to suitable crowdsourcing jobs.
Choose the right task
There are thousands of crowdsourcing jobs offered in Europe every day in various fields. It's highly recommended to concentrate your efforts on a specific assignment that you are confident and good at. This would increase the job search process while increasing your chances of finding suitable crowdsourcing jobs in Europe.
Follow emerging industries
Artificial Intelligence, Machine Learning, and Digital Technology have become a perfect match for crowdsourcing. Artificial intelligence (AI) has experienced significant advancements during the last decade. AI algorithms are currently doing at least as well as (if not better than) humans in dozens of fields. Consider machine learning (ML), which is a subset of AI. Without being explicitly taught to accomplish the task, ML algorithms create a mathematical model using sample data, referred to as "training data," in order to make predictions or choices. 
Many companies in these fields are not requiring people with an actual degree or experienced levels, which creates chances for those who want to learn and work in one of the top emerging industries in the world. Those like
Wow AI
- high-quality data solution provider for AI training at a large scale are actively hiring talents in Asia with numerous crowdsourcing jobs in their crowdpool. 
Conclusion
As crowdsourcing employment increases significantly in Europe many more global organizations will inevitably look for methods to hire crowdsourcing workers.
While the crowdsourcing market might be expanding now, it is also important to take recommended steps such as doing market research, choosing the right task, and following emerging trends and industries for crowdsourcing in order to find legit crowdsourcing jobs that bring both monetary benefits and professional and skills development in Europe.
If you are looking for crowdsourcing jobs in emerging industries like Artificial Intelligence, technology,
Wow AI
is a potential company. Focusing on high-quality AI training data for a better AI algorithm, we aim to become an all-in-one platform for all AI data services with tech-driven mindsets. We are currently offering
crowdsourcing jobs
on a global scale, especially for Europeans. Have a look at our
crowd pool
to find the best crowdsourcing jobs in the top growing industries now.